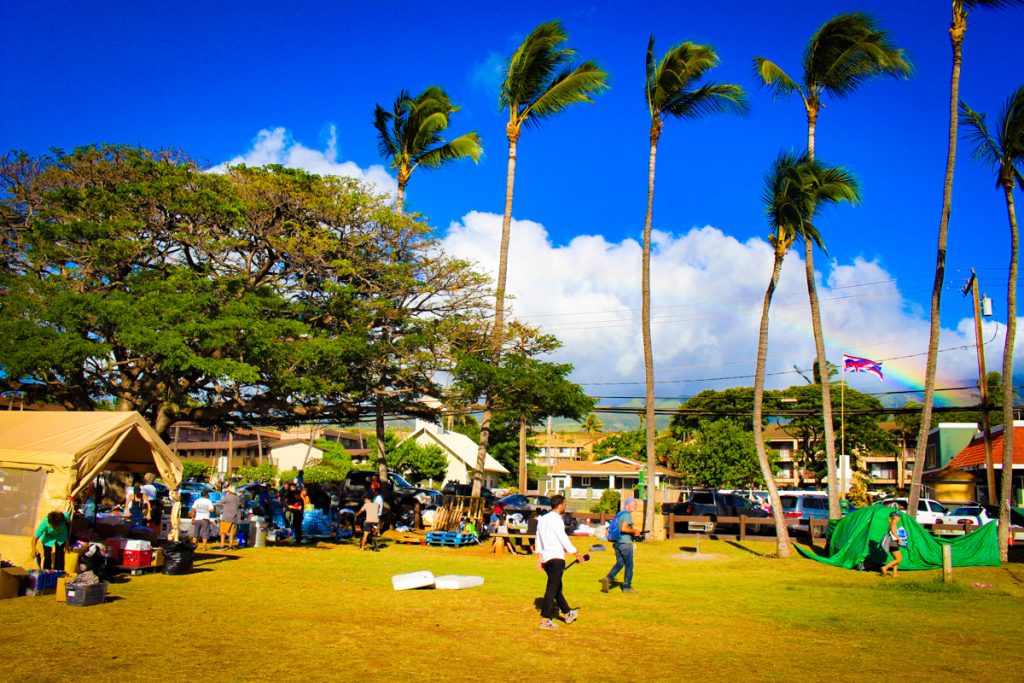 Volunteers from the Maui community established a checkpoint station at the Honokōwai Beach Park on the outskirts of Lāhainā.  In a display of solidarity, volunteers have been providing aid to the community, offering everything from clothing and nourishment to medical assistance. This support is especially crucial as the community grapples with the aftermath of a recent devastating fire that has left hundreds without homes, electricity, and internet access.
Aug. 14, 2023. (Photo Credit: Megan Moseley/Maui Now).

In the wake of the devastating Lahaina fire, a heartwarming rally of support has emerged in West Maui, where a diverse group of volunteers, healers, and organizations have united to provide aid to the survivors who find themselves cut off from the outside world.
The Mauna Medic Healers Hui, a collective of healers committed to safeguarding the Protectors of the Mauna, played a pivotal role in coordinating the grassroots effort. They were joined by volunteers from across Maui and neighboring islands, all converging with a shared purpose: to alleviate the hardships faced by those affected by the nation's deadliest wildfire in a century.
Setting up checkpoint stations at strategic locations such as Pōhaku Park (S-Turns), Honokōwai Beach Park, and Kahana boat ramp, the volunteers were swift in their response. They offered a comprehensive range of assistance, from medical aid provided by nurse practitioners, mental health counselors, a psychiatrist, and dedicated volunteers willing to lend a helping hand or an empathetic ear.
As the Lahaina community navigates its way through the aftermath of the fire, the absence of traditional aid organizations like FEMA and the Red Cross did not deter the volunteers. Instead, their grassroots movement became a beacon of hope, providing much-needed assistance that extended beyond physical supplies.
With each delivery of water, ice, household goods, and food, the volunteers are not merely providing essentials; they are illuminating lives with their compassion.
Maui's strong community is a great example of the power of collective action and reminds us that in times of crisis, it's shared humanity and the simple acts of kindness that can bring solace to those in need.
---
ONLINE RESOURCE HUB FOR RESPONSE EFFORTS TO MAUI WILDFIRE DISASTER
An online, centralized hub called Maui Nui Strong was designed to respond to the impacts of the Lahaina and Kula wildfire disaster and was launched at mauinuistrong.info. The County of Maui site offers information on how to donate, volunteer, offer services, and look for support. It is administered through the Office of Economic Development and will be utilized by multiple county departments, nonprofits and grassroots efforts to connect people to resources and services.
Source: Maui Now